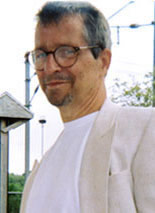 Born and raised in Chicago and Evanston, Illinois, Edward Clinton began his career as an actor, making his professional debut in Chicago with Alvina Krause's Eagle's Mere Repertory Company followed by his New York debut at Wyn Handman's American Place Theatre, where he appeared in Ed Bullins' play The Pig Pen.
Mr. Clinton received a full scholarship to New York University's Tisch School of the Arts where he studied acting with Lloyd Richards, Olympia Dukakis, Peter Kass and Jerzy Grotowski.
After ten years of performing roles in New York and regional theatre, Mr. Clinton left acting to pursue writing full time. He is a playwrighting fellow of the Eugene O'Neill Playwrights' Center. His play Benefit Of Doubt was first done at the world renowned Playwrights' Center where it was directed by Lynne Meadow, founder and Artistic Director of the Manhattan Theatre Club. Mr. Clinton's play Benefit Of A Doubt went on to have its world premiere production at the Folger Theatre in Washington D.C., directed by Emmy Award winning director Barnet Kellman and starring Academy Award nominee Carol Kane. This initial production was followed by subsequent productions of the play around the country, including a New York presentation featuring Academy Award winner Chris Cooper (SEABISCUIT).
Mr. Clinton's plays have been published by Samuel French & Company, Inc. His various plays have received hundreds of productions in regional, stock and community theatres throughout the United States and Canada both in English and French. A partial list of theatres where Mr. Clinton's plays have been produced would include the Cincinnati Playhouse-In-The-Park, Cincinnati, OH; the Folger Theatre, Washington DC; Theatre By-The-Sea, Portsmouth, NH; Chelsea Theatre Center, New York City; L.A. Theatre Works, Los Angeles, CA; Double Image Theatre, New York, NY; The Hippodrome Theatre, Gainesville, FL; Actor's Theatre of Louisville, Louisville, KY and Wisdom's Bridge Theatre in Chicago, IL.
Mr. Clinton's play The Boogeyman was awarded first prize in the Hippodrome Theatre's Play Festival. His play Ten Years Later, which was commissioned by Actor's Theatre of Louisville, was voted "The Best Play of the Festival" in an evening of one-acts, which also featured works by two eventual Pulitzer Prize winners; Marsha Norman and Paula Vogel. He was commissioned by the Ahmanson Theatre in Los Angeles, which was one of three special commissions given by the Ahmanson Theatre for original plays to be written by American playwrights, the other two commissions going to playwrights Thomas Babe and Ernest Thompson. Mr. Clinton's one act play, A Question of Faith , was one of five finalists out of 400 submissions in the Tennessee Williams One Act Festival competition.
Mr. Clinton has written twelve plays, seven screenplays, several television pilots, serial television comedy episodes, teleplays and radio plays and a novel. He has had numerous short stories and essays published appearing in publications as varied as The Dramatists Guild Quarterly and Writers Digest, Ellery Queen Mystery Magazine, FuturesMystery Anthology and others, such as the online E-Magazine FAME, and Eloquent Stories.
Mr. Clinton has had the pleasure of developing material for the screen for some of the finest film producers and directors in Hollywood and England including Academy Award winning producer Brian Grazer (A BEAUTIFUL MIND, CINDERELLA MAN), Howard Koch Jr. (MARATHON MAN), Dyson Lovell (LONESOME DOVE), Michael Relph (LAVENDER HILL MOB), Richard Lester (A HARD DAY'S NIGHT, SUPERMAN), Barry Spikings (THE DEER HUNTER) and Don Boyd (HONKY TONK FREEWAY).
Mr. Clinton's screenplay HONKY TONK FREEWAY was directed by Academy Award winning British director, John Schlesinger, (MIDNIGHT COWBOY, SUNDAY, BLOODY SUNDAY and MARATHON MAN), and starred William Devane, Beverly D'Angelo, Jessica Tandy, Hume Cronyn, Geraldine Page, Terri Garr, Michael Jeter, Howard Hesseman, David Rasche, George Dzundza, Daniel Stern and Beau Bridges to name only a few members of a truly stellar cast.
Mr. Clinton's family home is in Stonington, Connecticut.